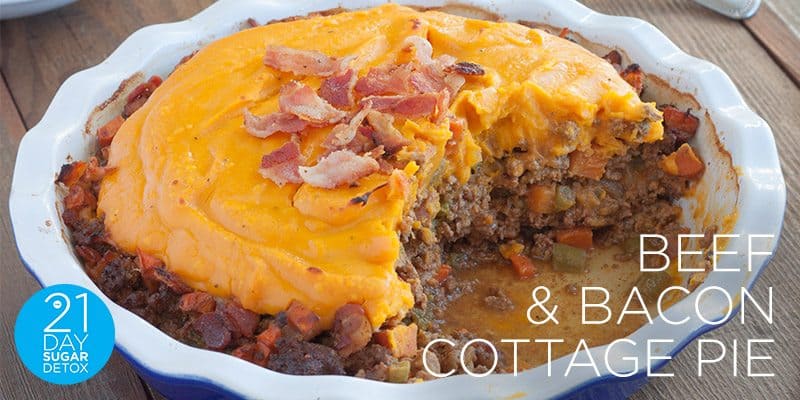 You'll love the smoky flavors of bacon and spices combined with silky butternut puree in this new twist on a family favorite. Cottage pie has never been so delicious!
---
Beef & Bacon Cottage Pie
grain-free • gluten-free • dairy-free • sugar-free
PREP TIME: 15 minutes
COOK TIME: 50 minutes
SERVINGS: 6
ingredients:
1 medium butternut squash (2 1/2 pounds)
2 tablespoons ghee or coconut oil
sea salt and black pepper
8 slices bacon, cut into 1/2-inch pieces, plus more for garnish if desired
2 medium carrots, diced (1 cup)
1 cup diced green beans
1/2 medium yellow onion, diced (1 cup)
2 pounds ground beef or bison
4 tablespoons Smoky Spice Blend (see recipe below)
preparation:
Preheat the oven to 375°F.
Peel the butternut squash with a vegetable peeler and cut in half lengthwise. Remove the seeds and chop into 1-inch pieces. Set up a pot with 1 to 2 inches of water and a steamer basket. Steam the squash over high heat until fork-tender, about 15 to 20 minutes. While still warm, transfer the squash to a food processor and blend with the ghee, seasoning with salt and pepper to taste.
While the squash is steaming, cook the bacon in a large skillet over medium heat until the fat has rendered off, about 8 to 10 minutes. Remove the bacon from the skillet with a slotted spoon and set aside, leaving the bacon fat in the pan. Add the carrots and green beans to the skillet and cook for 5 minutes over medium heat. Add the onion and continue cooking until the carrots just begin to soften, about 5 more minutes. Crumble the ground meat into the pan and sprinkle with the Spice Blend; use a spatula to break up any clumps of meat and to mix the meat and Spice Blend together. Cook until the meat is just browned and the carrots are cooked through.
Transfer the meat mixture to an oven-safe baking dish, either a deep pie plate or a 9-by-13-inch rectangular dish. Arrange the bacon pieces on top of the meat, reserving a small handful for garnish, then top with a layer of the butternut squash puree. Bake for 20 minutes or until the top just starts to brown. Garnish with extra bacon.
Use cooked and mashed sweet potatoes instead of butternut squash as the topping.
Smoky Spice Blend
PREP TIME: 5 minutes
YIELD: 5 tablespoons
ingredients:
1 tablespoon chipotle powder
1 tablespoon smoked paprika
1 tablespoon onion powder
1/2 tablespoon ground cinnamon
1 tablespoon sea salt
1/2 tablespoon black pepper
preparation:
Combine all the spices in a bowl and store in a small container.